Updates + Navigation Guide: Introducing Workawayer profile's new look
Pssssst! Have you tried viewing your Workawayer account and profile lately? If you've ever wondered how to show your best self to hosts and travellers, we've got some good news! After lots of research and tidying up, we've come up with a  new makeover where we align your public profile with your personal account page . With this new layout, you can not only easily  showcase your personality and skills , but also  inspire others with your travel experiences , future plans and more! 
Related blog post:  5 ways to make your Workaway profile stand out
A more inspiring way to showcase your story!
We've kept all the most important info on your profile overview and gathered the other bits onto separate tabs. Your overview shows your travel status and profile description along with previews into your friends, photos and feedback. For a more detailed view, simply switch between the tabs.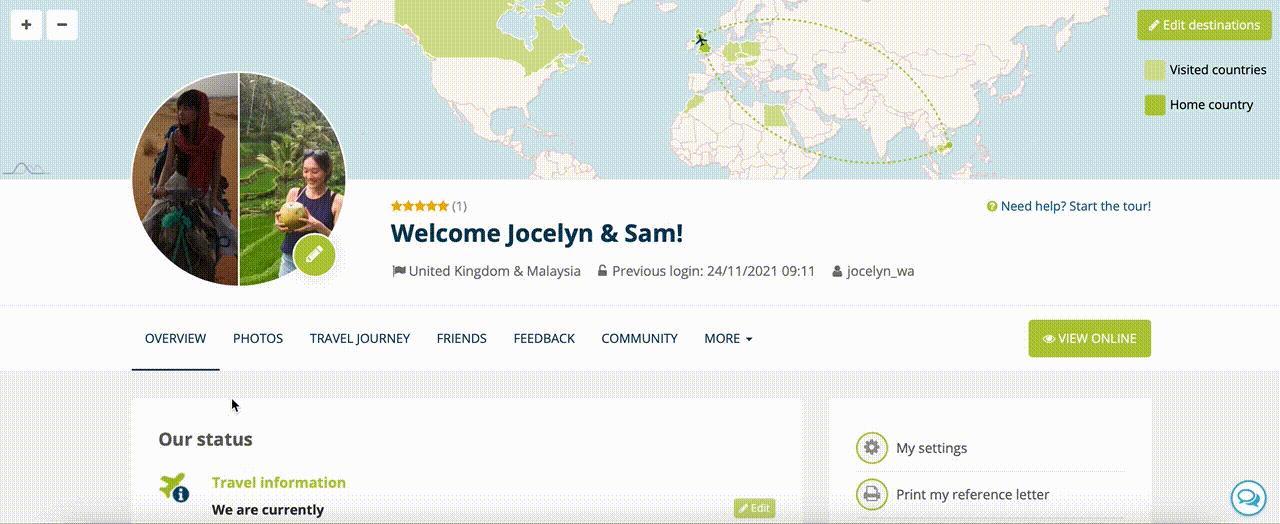 Brand new features on this page:
Map banner: We've always loved that feeling of opening a map, dotting out all the endless possibilities that are waiting for us! That's why we've added an interactive map banner on your profiles to show your upcoming destinations and past trips. Tip: hover over the map to see the countries!
Couple profile photos: Here's for our Workaway pairs -- a cleaner profile photo view of both yours and your travel partner's. This sleeker view fits right into our simplified workawayer profile without taking anything away -- to have a clearer view of either photo, just hover over it!

Related blog post: The couple who caught the Workaway bug BIG TIME: 14 hosts in 13 months and not ready to stop!
All the adventures to look back on, and look forward to
There's just something so satisfying about having a visual representation of how far we've gone, and we hope that this new feature would be something inspiring to look at! On the travel journey tab, we've lined your path on how far your wandering feet have taken you, and the next places you're about to step foot on. Record all the travel adventures you've had on and off Workaway, and update your past and future travel plans anytime.
Related blog post: 5 Workaway myths that stop you from travelling long term on a budget
Showcase your #Workawayphotocompetition snaps
We've combined all of your profile photos and competition photos under the photos tab so that you can showcase not only your photo album for your profile, but also travel snapshots of your past Workaway adventures!
If you've won some awards for your travel photos, your badge will be displayed on the photo too (Every month our favourite photo competition submissions are indicated by award badges -- 1st, 2nd, 3rd prize winners, as well as 'thumbs up' badges for commended photos). This is a great way to tell hosts you can take great photographs that others love! 
Related blog post:  Inspire the world with your travels & photography skills
Keep in touch with your travel pals
On your friends tab, you can  easily revisit all the Workawayers you've chatted with, met on Workaway adventures, or travelled with. Hop on to a fellow Workawayer's friends tab and you'll also see how many common friends you have with each other, and jump on their profiles anytime!
Tip: feel free to manage your friends list's privacy settings here!
Related blog post:  How to use Workaway to find your travel BFF
Stay up to date with the Workaway community's happenings
Apart from your refreshed public profile, we've also given your account page a similar makeover so it's mirrored with your profile page, which is now a lot more intuitive to navigate. Under the community tab is where you can find Workawayers to meet up, travel or practise a new language with, as well as the latest host projects in your travel destinations.
PS. Make sure to check out your travel feed for more inspiration from the community!
Get tips and support from the Workaway team
We're not robots and we're here to prove it once and for all! ;) The support & advice tab on your account page now shows weekly stats on what we've been working on in the background to support our members and help keep the site safe. 
We've also collected all of your most  commonly asked questions  on this tab, so you know where to look if you have any questions about improving your profile, contacting hosts, or travelling safely as a workawayer.
And that's a wrap on your new workawayer pages! As always, if you have any feedback you'd like to share with us, feel free to contact us on our help desk any time :)
website update
---
About Workaway
Here at the Workaway team we are lucky enough to witness all the amazing experiences enabled via the site and we'd love to share them with you too! From new and improved website features for our commu... show more...nity , to handpicked unique Workaway opportunities we come across, we hope our blog posts help you get to know our site and our community better!
---
Share the Workaway idea
---
1 comment