Workaway News: plan your adventures with the improved favourite hosts list
How do you start planning your year-long Workaway adventure with so many different opportunities and diverse destinations to choose from? Somewhere to study your permaculture design course, places to visit during your summer trip in Europe, and meaningful projects at a beautiful location while doing some good? Not complaining about how we are all so spoilt for choice, but we found a great way to help you organize and plan your trips with your newly  updated favourite hosts list ! Let us walk you through: 
Introducing the new look for your favourite Workaway hosts list
There's regular travel destination list, then there's  ✨Workaway favourite host list ✨. We've upgraded the favourite host list on your account page to a  colourful board showing all your saved hosts as you plan your trips and map out your adventures! 
Desktop version: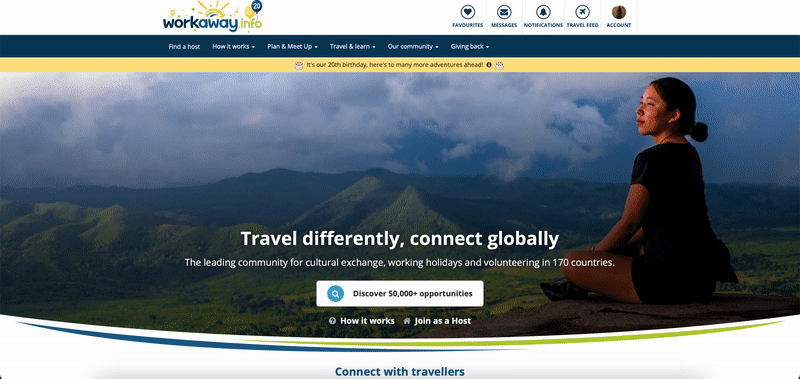 Click 'Favourites' -> ' Favourite hosts' to go onto this page. You'll see boxes showing snapshots of all the host projects you've saved as your favourite hosts.
Mobile version: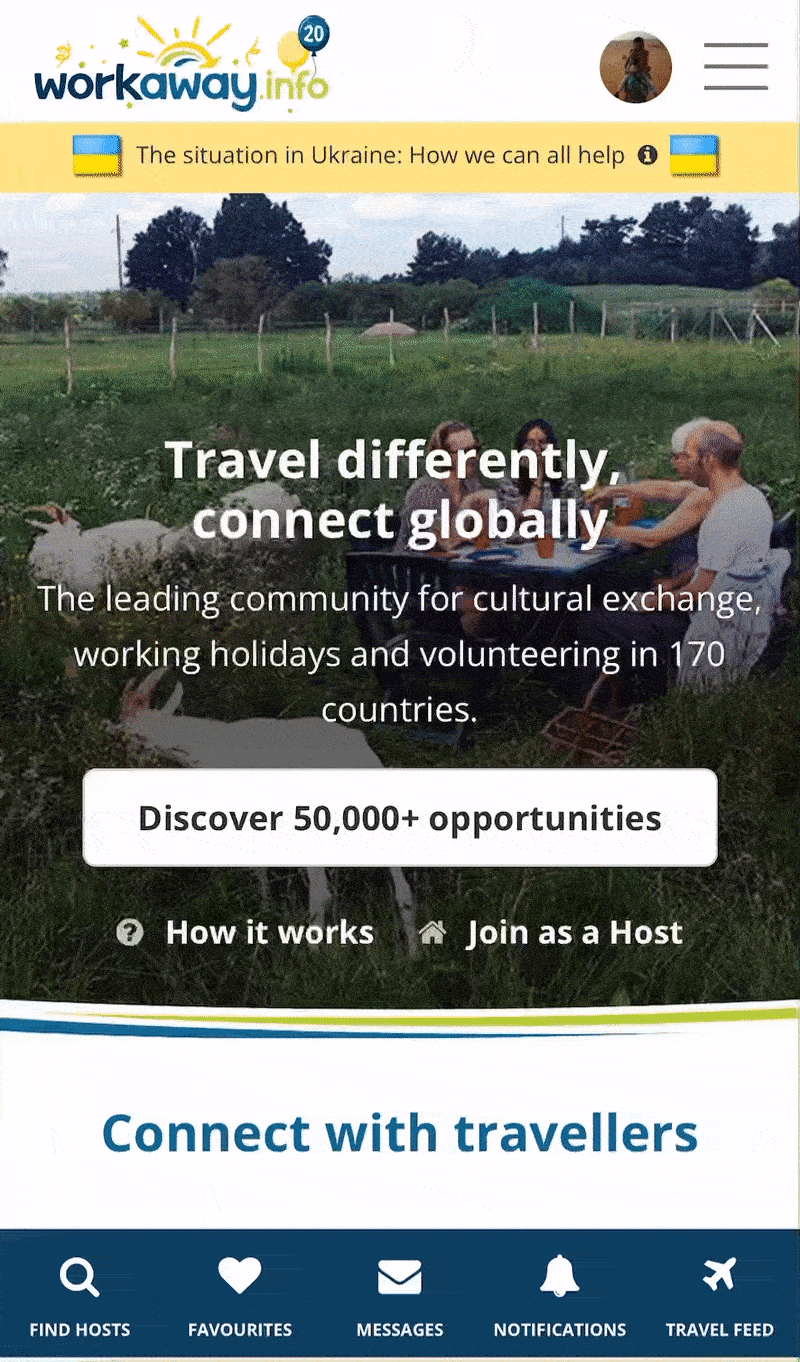 Tap onto 'Favourites' at the bottom of the page (navy blue tab) to access your favourite hosts.
Make sure you're logged in to your Workawayer account to create separate host lists, so that you can keep them saved for your future reference!
Step 1. Add a host to your favourites list(s)
When you saw a host you love on  the host list, click the ' Heart ' icon on their profile photo:
Or have a look at their profile first, and click ' Add to my host list ' just above profile descriptions near the top of the page:
Save the host to your existing lists or create a new one . Add a note about why you're interested in visiting the host or plans on when you're going to visit!
Step 2. Create separate lists to plan your adventures
With the new design, you can group all your saved hosts into different lists . Log in to your Workawayer account to create a list of hosts you'd like to visit on your upcoming trip to Jordan, another one for projects where you can learn about permaculture, and even a list of alpaca farms and projects on Workaway.. The possibilities are endless!
Logged in workawayers can also add notes for each saved host
Step 3. Map out your trips and experiences
For those who are planning their routes (or just prefer seeing destinations mapped out), we got you too! There's now an interactive map on each list, so you can see a rough location where each host is at: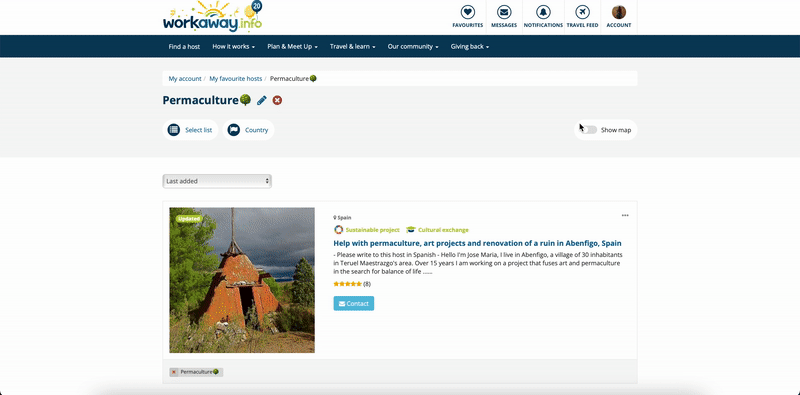 Toggle the 'Show map' slide near the top of the page to view your saved hosts on the map
You can also filter your lists by country if you already have your next destination in mind! 
Your filtered results will be shown on the map too
And that's a wrap on our updated favourite hosts list. We hope you'd get inspired exploring the site and creating your Workaway bucket list, and even more inspired to make your dream list a reality!
As always, if you have any feedback you'd like to share with us, feel free to comment below or reach out to us via our help desk anytime :) 
---
About Workaway
Here at the Workaway team we are lucky enough to witness all the amazing experiences enabled via the site and we'd love to share them with you too! From new and improved website features for our commu... show more...nity , to handpicked unique Workaway opportunities we come across, we hope our blog posts help you get to know our site and our community better!
---
Share the Workaway idea
---
Leave a comment!